Hall Ranch was calling this afternoon, and I had to go. As the scenery spread out before me, buildings, signs, and overhead wires giving place to brown fields dotted with the occasional ponderosa, I found myself filled suddenly with gratitude for the fact that Hall Ranch was there, and thankful for the work and the will of all the people who helped to conserve it. It's one of my favorite places, a Boulder County Open Space park. Hall Ranch has so much to appreciate:  space, vistas uncluttered by human creations, and a multitude of ecotones to observe.
And of course there's this, on the Nighthawk Trail there are: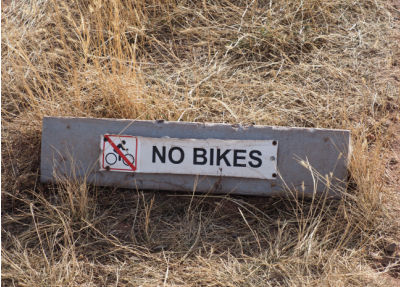 Not to disparage bikes, but when you are watching wildlife and thinking about plants, it's great not to have to compete with them. No dogs allowed on any part of Hall Ranch, protection for wildlife.
I walk for an hour but I don't get very far. My problem is that I am seduced by Schizachyrium, wowed by whirligigs, and captivated by cones, all of which are abundant at the start of the Nighthawk. Summer produced a bumper crop of flowers on mountain mahogany (Cercocarpus montanus) this year, so no surprise, the plumose styles still attached to seeds on the plant were equally prolific – and transfixing as the light shined through them. Junipers also had a good year here, maybe all the rain last spring, or maybe just the natural cycle of things.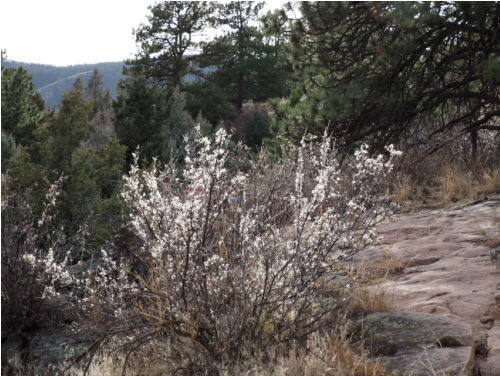 Mountain mahogany, (Cercocarpus montanus), transfixing in fall. Photo: SPD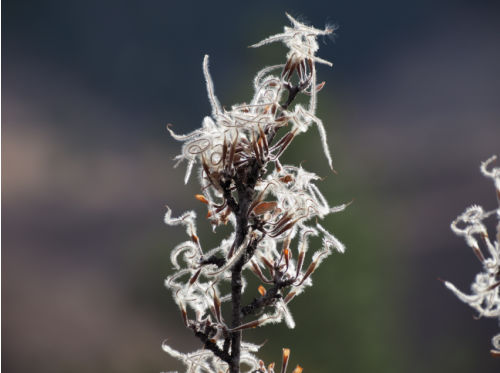 Light shines through the plumose styles of mountain mahogany shrub. Photo: SPD
Our Rocky Mountain juniper (Juniperus scopulorum) is a stalwart and important plant, providing food for many wild things, and this time of year its cones are singing out 'abundance.' If you've never tried it, take a loupe or magnifying glass with you and look carefully, you will see the overlapping scales of the little cones. By golly, they really aren't berries! And "it takes two, baby, it takes two" to make their dreams come true. Junipers are dioecious, a single tree has only male or female flowers, so if cones are present, it's a lady tree.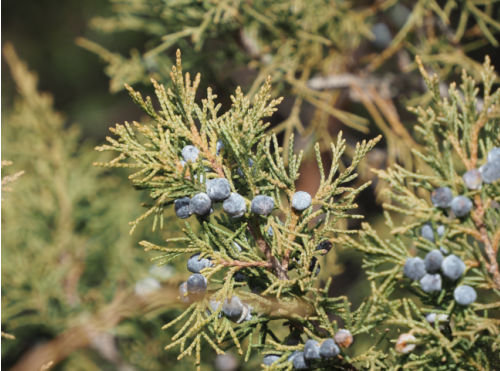 Blue cones of Rocky Mountain juniper personify 'abundance' this year. Look closely and you will see their scales. Photo: SPD
Unlike the eastern juniper, whose cones emerge and mature in one year, the Rocky Mountain Juniper cones take two years to reach maturity, so you will see cones of multiple ages on the same tree.
Well, at this rate we will never get up the hill at Hall Ranch, so let's get moving. There's so much more to see!
Who doesn't like to see nothing but space? At Hall Ranch Open Space you will see no signs or flashing lights, just freedom for the mind to roam unemcumbered, taking in the organization and the 'rightness' of what's before you. The stately ponderosa says simply "I belong here." And the bluebird echoes, 'Yes.'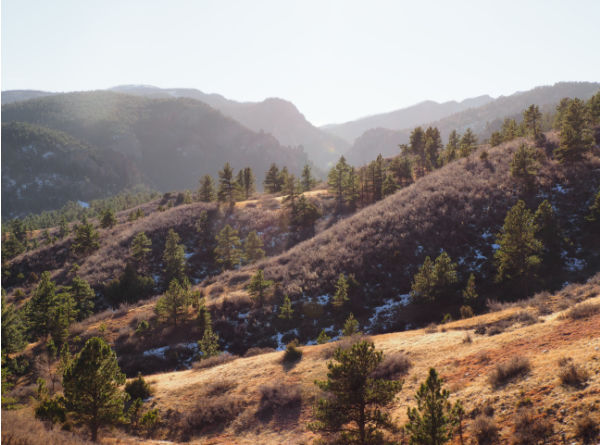 Looking back over part of the Nighthawk Trail. The vista welcomes affirmation of the wholeness and the 'rightness' of the ecosytem there. Photo: SPD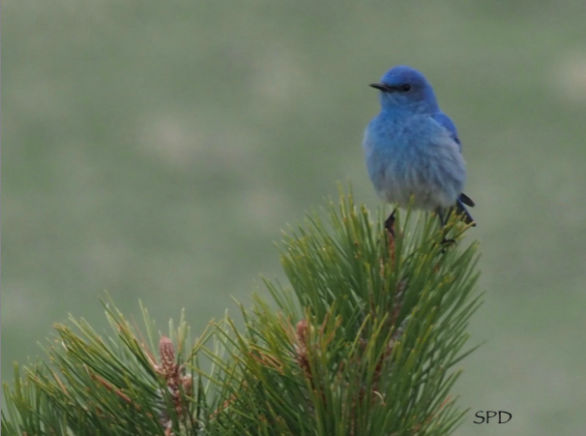 Mountain bluebirds favor the open ponderosa pine spaces at Hall Ranch. Photos: SPD
Hall Ranch is colorful in all seasons, sweeping arcs of Big and Little Bluestem in their fall cloaks of red grace the hillsides, junipers and pondy pines are green all year. But in a nod to the flowers of summer, and to show you a cactus garden, we will wave the magic wand and transport to summer.
One of things I love about Hall is that I know it intimately, where to look for deer bedded down, where the most diverse fields of flowers are. But there is always something new to see.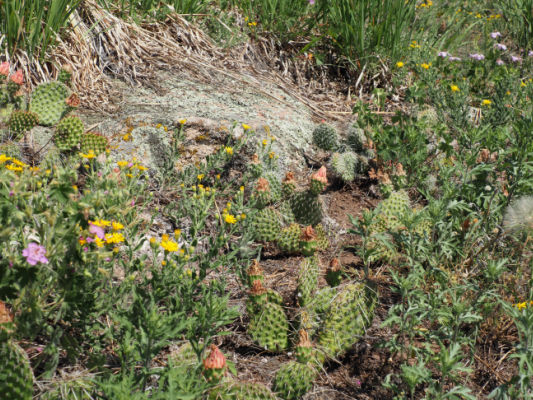 A cactus garden! There is always something new to see in a space this big, Hall Ranch is over 3K acres. Photo: SPD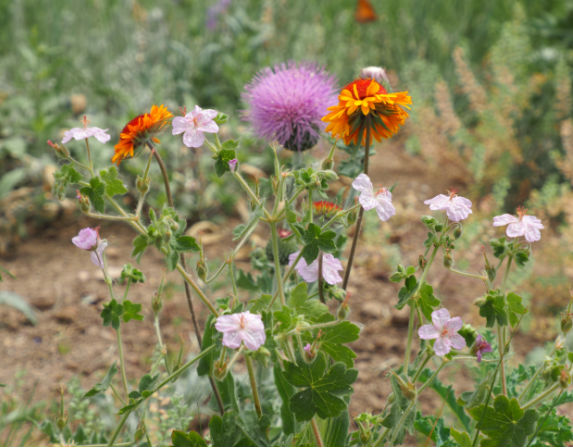 Hall Ranch has gorgeous pockets of wildflowers. Here are gaillardia; the native wavyleaf thistle, Cirsium undulatum; and pinewoods geranium. Photo: SPD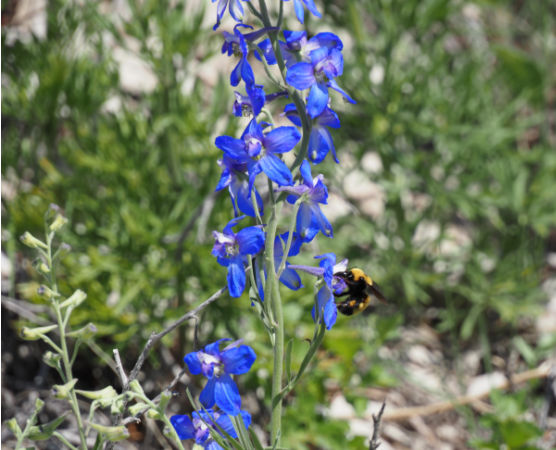 Plains larkspur, Delphinium geyeri, with native bumble bee. Photo: SPD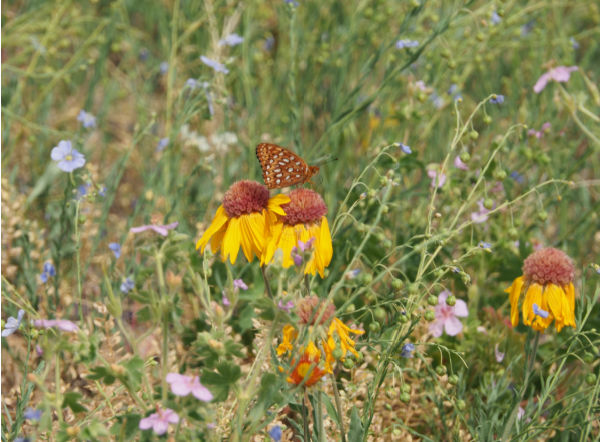 A field of Colorado's beautiful native flowers at Hall Ranch.  Here with a fritillary butterfly. Photo: SPD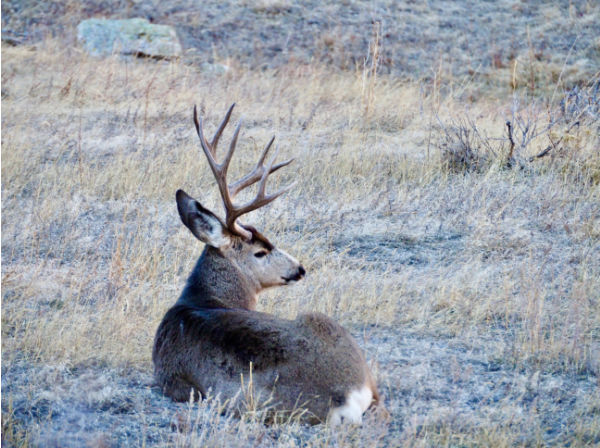 A stag at rest. In the evening light color begins to fade. Hall Ranch is home to lots of creatures. Photo: SPD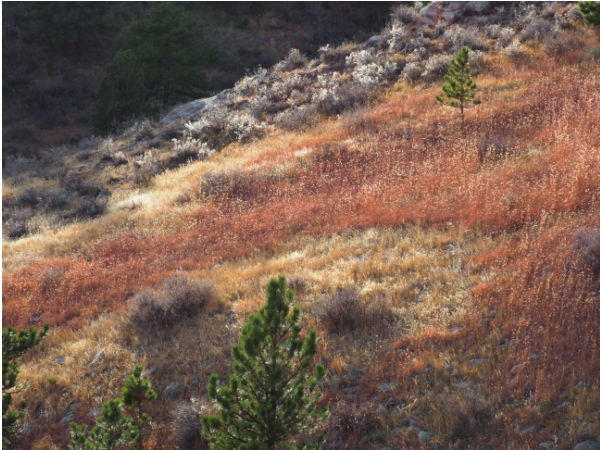 The growing season is over but while the sun is out the colors of fall are rich and the bluestem seed heads sparkle. Photo: SPD
Well thanks for touring Hall Ranch with me. We only saw a small portion of what's there to enjoy, but you can only see so much when you are enjoying the details, right?
I'm channeling John Muir today. "The battle for conservation must go on endlessly, it is part of the universal warfare between right and wrong."
What have you done for conservation this year?
Sue Dingwell
Media Committee
Colorado Native Plant Society