Editor's note: The author of this post will be leading a field trip on nature journaling at our 2021 Annual Conference in Trinidad!
Nature Journaling can mean something different to each person who practices it.  There are numerous approaches for both teaching and practicing it, and no approach is wrong.  There are so many benefits, reasons, and motivations to nature journal, but the most important and beneficial reason is nature connection.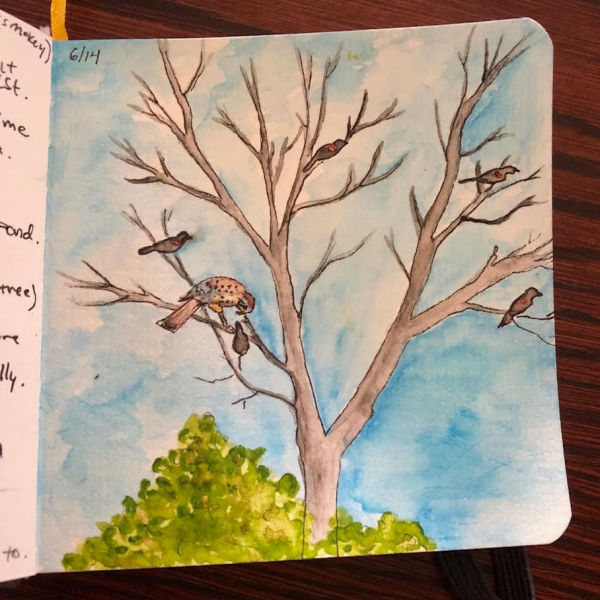 A connection with nature is the first step for any adult or child to start caring about it.
Nature connection is the foundation and stepping stone for any child or adult to start caring more deeply about the natural world. This connection allows us to develop a sense of place in our favorite or yet undiscovered outdoor spaces. Connecting with nature is more important than learning all of the facts and identifications because it naturally creates environmental stewards. Whether we know a little bit or a whole lot about the natural world, it all starts with that spark of feeling connected to nature, whether we are aware if that or not. Nature Journaling is a powerful tool to allow us to do just that.
Many people have the misconception that you have to be an "artist" to do nature journaling. Especially when there are groups who post exquisite sketches or paintings, it can intimidate those who are newer to the activity. Sometimes even the word "journal" can be off-putting to those who don't enjoy writing or feel they are not good at it. The truth about nature journaling is that it can be ANYTHING you want it to be, the process is yours, and you never even have to share your entries.
Writing in your nature journal need only have meaning to you!
So what is nature journaling? It is really just a tool for scientific or nature observation. The scientific process of observation and the observation used during drawing or painting something in nature are one and the same. Nature journal entries can range from all art and minimal words to all writing with little to no art and any combination in between. Remember, just because your friend writes a novel in their journal or your teacher draws a 'masterpiece,' does NOT mean that you have t
come close to doing either of those things.  I enjoy focusing on my drawings with some labels and supplemental writing, but much of that may not even be coherent to anyone other than me.
One rule that I do encourage everyone to follow, kids and adults, is to record the date, time and weather along with your written and/or drawn observations.  Doing so allows you to return to that entry and figure out what time of year you saw that flower, or what time of day those insects appeared.  Maybe you'll start to notice how certain birds behave in different weather conditions.
I also like to encourage anyone who begins nature journaling to try and draw their observations at least a little bit.  You do NOT need to have artistic skills or experience to draw in your journal, everybody starts somewhere.  There are even resources you can find and use to help develop your skills on the internet like John Muir Laws, or on YouTube, sites like David Allen Sibley's draw-along bird sketch videos.  The most important thing to remind yourself about your nature journal drawings is that it is about the process, not the end result.  The end goal is to have recorded your observations and hopefully to have learned something new versus creating a masterpiece.
You do NOT need to have artistic skills or experience to draw in your journal, everybody starts somewhere
There are also various styles and purposes for nature journaling.  Most include finding a "sit spot," or a place you feel comfortable sitting and relaxing in nature so you can complete your observations in your journal.  This sit spot could be your favorite spot in your backyard; your favorite nature trail in a community park; or a brand new place that you're visiting for the first time.  A sit spot that you can return to will allow you to observe and document changes over time.  You may choose to journal the surrounding habitat in general or focus on something more specific like a single plant, bird, seed or bug you have yet to identify.  By drawing and noting the details of what you see, hear, smell touch or even taste (Yep, if applicable!), you'll have engrained that species or item into your memory.
There are numerous benefits that accompany nature journaling.  It is very therapeutic and stress relieving, even if that is not your primary objective.  Once you have been in your sit spot for 15 minutes or longer, the surrounding habitat will return to its baseline homeostasis and you will be amazed at how birds, bugs, and wildlife begin to feel more safe as they become comfortable with you presence. The focus on the details of what you are studying can also bring you out of the day-to-day stressors and create an unexpected sense of peace.  Other benefits include increased artistic and writing skills as well as improved awareness and observational skills. Identification skills for all things in nature also increase with such intentional observation.  You will begin to notice relationships within wildlife, insects and plant life that you never knew were there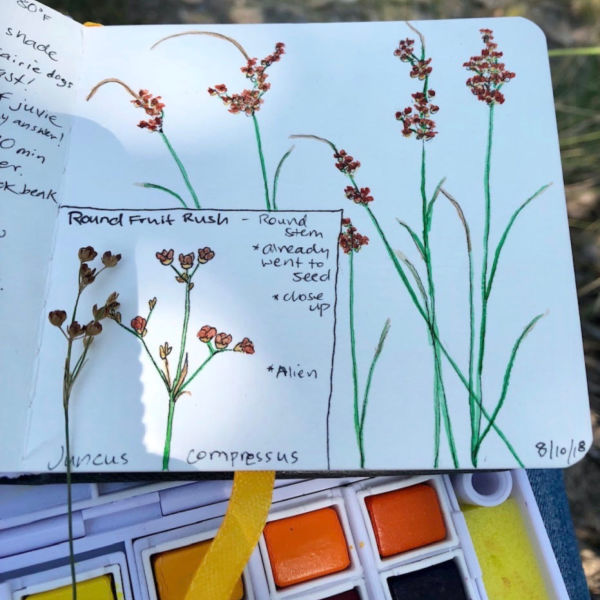 Nature journaling not only increases your knowledge about and connection to nature, it's also therapeutic and stress relieving,
I am beginning to notice within myself that drawing and journaling something in nature is my way of honoring it and developing a new relationship.  It is also a great way for us to calm our minds and bodies, and of course, we will all come away with a deep connection to nature.  These benefits hold true for kids and adults of all ages.  Nature journaling is a great activity for parents to do alongside their children and for teachers to do with their students.  
As an environmental educator who wishes everyone would care more about protecting our planet, for me it starts with that nature connection spark, and nature journaling is my tool to ignite that spark.
Dina Baker
Denver Metro Chapter