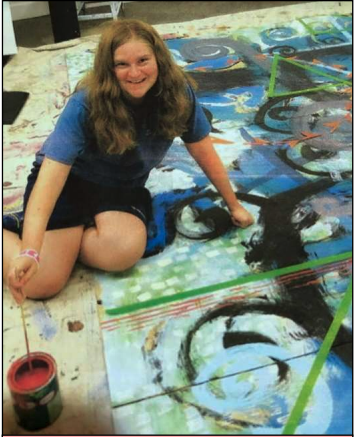 This is a story about my daughter, Sunia, who loved art and all of nature, and has been an inspiration to me and all who knew her. Sunia passed away in February 2020, at the age of 28. Despite her significant physical and mental health challenges, she continued to draw and paint in the last two years of her life. The act of creating beautiful, charming images on paper or canvas gave her a bit of relief. She is very deeply missed by our family and by the many, many people who loved her!
Sunia was intensely kind, giving, and creative. She loved making art and sharing it with others. She often gave her art away to folks she knew, but even sometimes to strangers. She was a member of the Access Gallery on Santa Fe Drive in Denver, an art gallery for folks with disabilities, for five years. When Sunia was exhibiting at a show, she would engage with patrons to talk about her work. If a patron couldn't afford her work, Sunia would try to give it to them for free. Sunia had a big heart and always loved to share.
As a Colorado Master Gardener in Denver for 10 years and a member of CoNPS for many years, I passed my love of plants, and more recently native plants, on to Sunia. She would spend stretches of time in the garden carefully studying plants and insects. She was instrumental in putting in a pollinator garden at Denver Academy, where she attended high school. When she and her sister were younger, I used to take them on what we called nature walks, usually along a canal or wild area. She picked up many items along the way that interested her: pinecones, insects, plants, feathers, rocks… She would then arrange some of them in a still life and paint or draw them.
For several years, I threw an art-in-the-garden party on our property. I invited 30 to 40 artists to come and paint en plein air in our gardens. I hired a model whom many of the artists painted, but other artists painted or sketched flowers, trees, or other plant material in and around the property. Beginning, mid-career, and seasoned and advanced artists all attended the art-inthe-garden parties. I then invited art lovers to stroll the gardens, chat with the artists, and buy some art. Sunia always had a table set up at these festive affairs with drawings and paintings she made. She usually sold out!
I recently approached CoNPS with the idea of starting a fund in memory of Sunia because I feel the work of conserving native plants and educating more folks about the importance of native plants is critical. I felt that dovetailing that with Sunia's passion for art was a natural fit to honor her.
The new Sunia Memorial Botanical Illustration Fund will support courses in botanical illustration throughout Colorado. I would like to encourage the same type of participation as that of my art-in-the-garden parties, and I hope this fund facilitates inclusive art programming in which people with a wide range of abilities can participate and expand their knowledge of native plants.
My hope is that this botanical-illustration fund will not only teach participants more about the intricacies of this art form, but also give them great joy in expressing themselves as they closely examine the plants around them. I also hope to continue a partnership with CoNPS as it seeks to expand its reach in a variety of other areas. Thank you for your  interest in Sunia and keeping her memory alive.

Donna Baker-Breningstall
Check out the orginal article in the Summer 2022 Aquilegia to see more of Sunia's artwork.