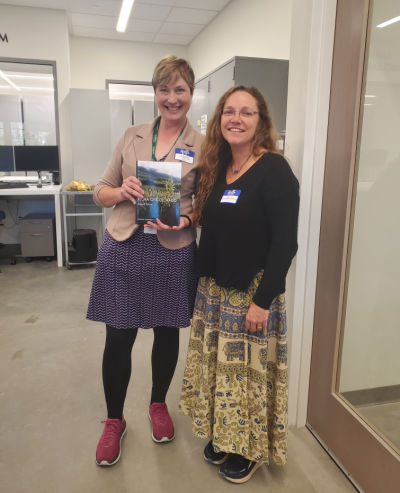 Jennifer Ackerfield, author of the Flora of Colorado shares a preview of the newest edition with the Colorado Native Plant Society's Executive Director, Maggie Gaddis.
Nov. 10, 2022
A special perk for attending the Pollinator Summit at the Denver Botanic Gardens yesterday – a sneak peak at the new edition of the Flora of Colorado!  Author Jennifer Ackerfield is understandably proud of this second edition.
You can order the new edition from our bookstore, we expect to have it in hand in the next couple of weeks and we will ship it out to you ASAP. The new edition contains results from the past seven years of continued research, including the addition of incident dots which represent herbaria specimens verifying geography within county boundaries.  Now fully forty percent of species have a color photo plate with enhanced imagery.
Ackerfield, who is also the Head Curator of Natural History Collections and the Associate Director of Biodiversity Research at the
Denver Botanic Gardens has been studying Colorado's plants for nearly thirty years. Her expertise is showcased in the Flora with its dichotomous keys, detailed descriptions, distribution maps, habitat information, flowering times, and elevation ranges for all the vascular plants of our state.
Ackerfield has said that her aim in working on the Flora has always been "to enable students, researchers, amateur and professional botanists or anyone interested in the flora of Colorado to successfully identify the plants they encounter with confidence and satisfaction."
This team thinks she has hit the mark!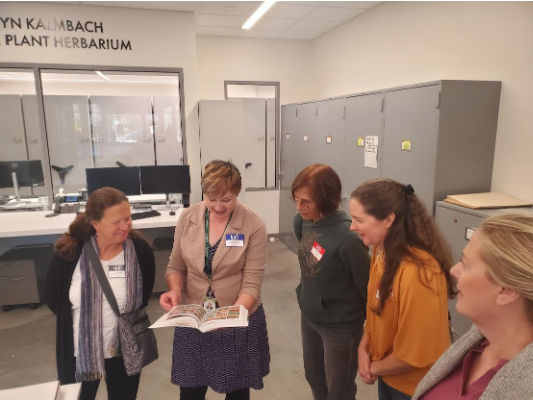 The new Flora of Colorado brings big smiles!  Left to right – Susan Panjabi, Jennifer Ackerfield, Sue Dingwell, Rachel Steeves, Crystal Strouse. Photo courtesy of Maggie Gaddis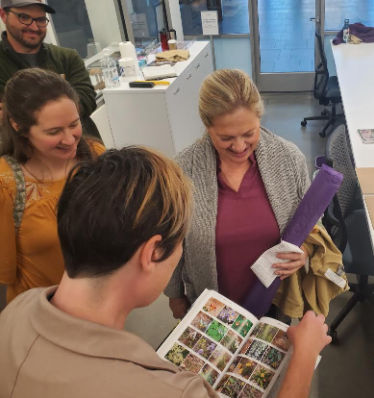 A look over Jennifer's shoulder – you can see the nice upgrades to the photos. We heard a little bit about certain help from her teenage son with the design of the front cover. Teens do know best! Order yours now.