In 2014, I had the opportunity to search for Eutrema penlandii on Mt. Evans with a number of botanists and Colorado Native Plant Society members. When speaking with them, I realized that most of the 'alpine native plant community' know nothing about the efforts being carried out in the Mosquito Range to locate and GPS locations of rare alpine plants.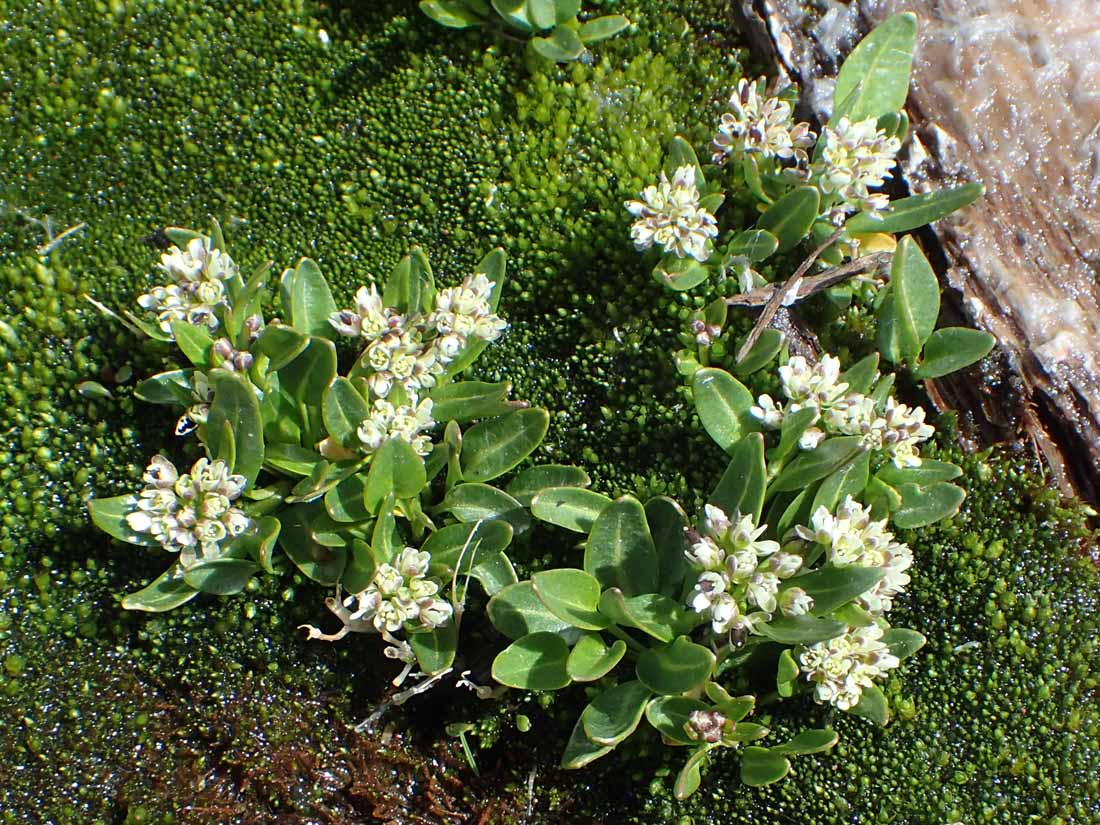 Eutremia penlandii in Flower
The Mosquito Range is a unique area of high mountain peaks and passes, alpine cirques, and rich fens in Park County. Its unusual hydrology and geology, create areas that contain many of the state's rare plants and natural communities. Additionally, atypical limestone outcrops and unglaciated uplands have created a biodiversity hotspot. Few other areas in Colorado support the number and rarity of plant species found here. Recreational opportunities abound in the area which at times threaten the fragile ecosystems of the rare alpine plants.
In 2010, Sheila Lamb of the US Forest Service South Park Ranger District (USFS-SPRD) suggested that the Mosquito Range Heritage Initiative (MRHI) apply for a grant from the US Forest Service RAC Secure Rural Schools to fund a Rare Alpine Plant Project. In the spring of 2011, MRHI was granted funding and the Mosquito Range Rare Alpine Plant Project had its beginnings. Initially this was to be a two year project to preserve and protect rare alpine plant communities in the Mosquito Range. Our focus was finding new populations of Eutrema penlandii, a threatened, federally listed plant and to protect them when they are in danger due to recreation. This species is an ice-age relic occurring at elevations of 12,000 feet and up. When we started the project in 2011, there were nine known locations in the Mosquito Range and adjoining areas. We now know of 60 locations. The project has been such a success, that we have continued to receive funding from a number of sources, allowing the project to expand beyond the original two years. We just completed our fourth year, and plan to begin our fifth next season. As you can imagine, the goals, objectives and scope for the project have grown through the years.
MRHI set out to create a detailed botanical survey of rare alpine plant communities in relation to recreational roads & trails (authorized and unauthorized). Once plants are located, they are mapped with a Trimble GPS. The data is then downloaded into ESRI ArcMap which allows us to share data with our partners and create maps of the known plant populations. We developed and continue to work to implement a conservation plan to protect these rare plant communities. In addition, we continue to educate community residents and visitors on our rare alpine plants and methods to preserve and protect them. The project team consists of at least one botanist, mapper, a trails manager, and environmental stewards.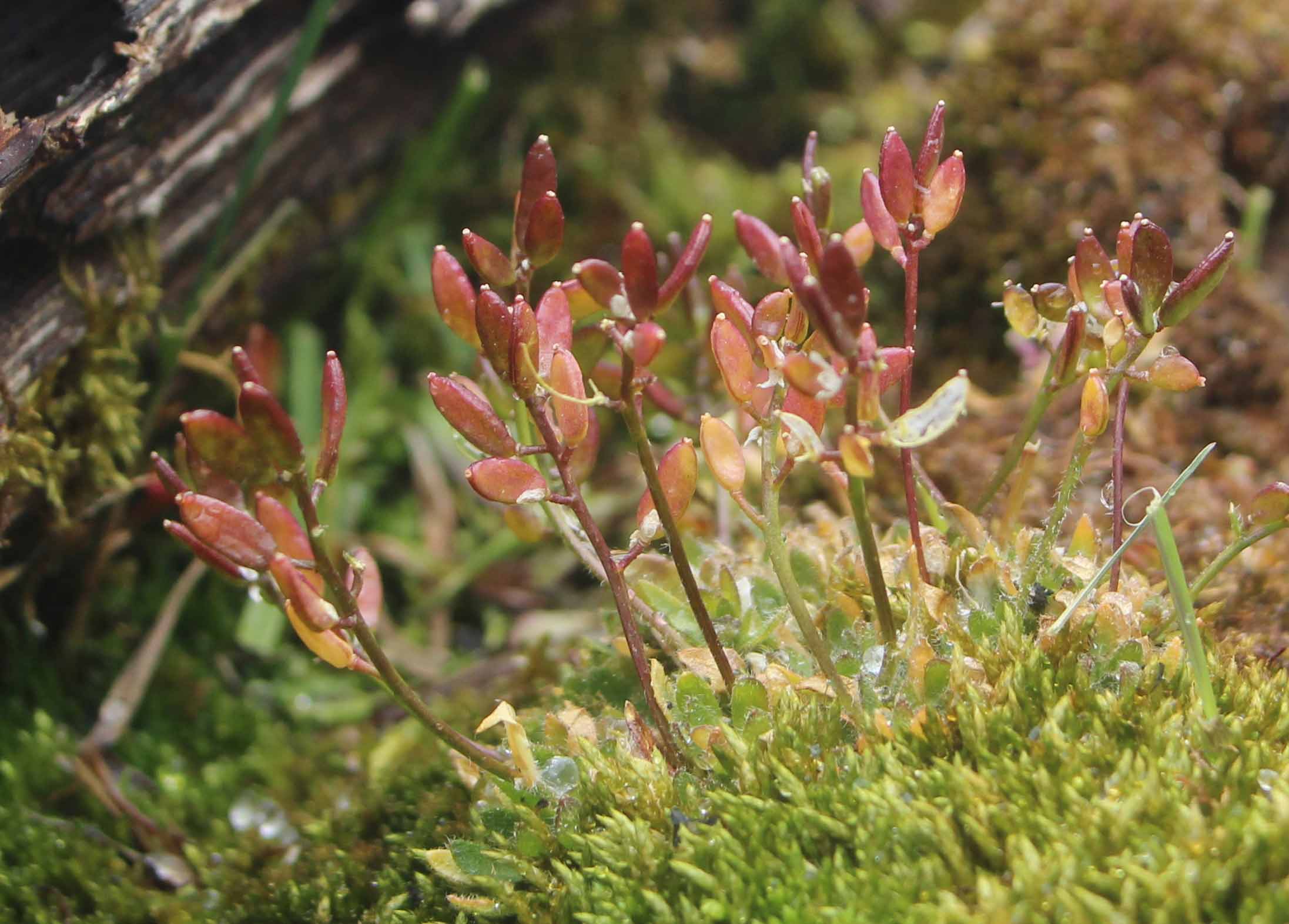 Eutremia penlandii in Fruit
 A list of the rare plants in the Mosquito Range was compiled by Sheila Lamb (USFS – SPRD), Gina Glenne (USFWS) and Steve Olson (USFS), using information from the Colorado Natural Heritage Program records. The list was prioritized and this is the list from which we work. The list has changed slightly through the four years with new plants being added and the most common of the rare plants removed. Here is the 2014 list:
Critically Imperiled (S1) Imperiled (S2) continued
Armeria maritima ssp. sibirica Draba oligosperma
Botrychium ssp. Ipomopsis globularis
Braya glabella Machaeranthera coloradoensis (xanthisma)
Draba weberi Papaver radicatum ssp. kluanensis
Draba globosa Parnassia kotzebuei
Erigeron lanatus Phippsia algida
Eutrema penlandii Ranunculus gelidus (R. karelinii)
Silene kingii (gastrolychnis) Saussurea weberi
Mertensia alpina Senecio soldanella (ligularia)
Viola selkirkii Townsendia rothrockii
Imperiled (S2) Vulnerable (S3)
Astragalus molybdenus Aquilegia saximontana
Braya humilis (neotorularia) Chionophila jamesii
Castilleja puberula Draba crassa
Crepis nana (askellia) Draba streptobrachia
Draba exunguiculata Penstemon harbourii
Draba fladnizensis
Not Ranked (SNR)
Draba grayana
Oxytropis podocarpa
The USFWS and BLM spearheaded setting up five permanent Eutrema penlandii research monitoring plots and two Modified Whittaker plots that are visited each year. The monitoring plots allow population trends and the health of plants to be noted. MRHI, in conjunction with Sheila Lamb, is also creating floristic lists of all the plants in the E. penlandii monitoring plots and in surrounding areas. While this is a less scientific approach and we aren't always there at the same time of the year every year, it is a start at learning more about the plants in the Mosquito Range.
In addition to locating the rare plants, we record all instances where roads or trails encroach on the plant populations. Where possible, we close these illegal trails, as well as place rocks around the plants, and post conservation signage to protect the plants. Each year we monitor closures and re-do them when necessary. In 2014, MRHI was fortunate to have the assistance of an AmeriCorps NCCC crew for two weeks to assist with trail work and road closures. In addition to other work, they built one very impressive buck and rail fence. MRHI also partnered with Wildlands Restoration Volunteers (WRV) in 2014 to stop off road usage that has expanded into the Cameron Amphitheater in recent years, threatening six rare alpine plants that call this area home.
A not so fun part of the project has been noxious weed removal. We work at the lower elevations in areas that lead to national forest land to stop the spread of noxious weeds. Our focus has been Matricaria perforata, Linaria vulgaris and non-native thistles. We have concentrated our efforts in the towns of Fairplay and Alma, as well as neighboring communities. In 2013 we tried biological control of Linaria vulgaris by releasing Calophasia lunula. Unfortunately, when we checked on them in 2014, we saw no signs that they had survived the winter. We continue to educate the public wherever possible regarding how noxious weeds are spread and what individuals can do to help stop the spread.
Locating and Marking Eutrema penlandii; Mosquito Range Heritage Initiative's Rare Alpine Plant Project
 Education remains one of our goals and takes on many different forms. We have set up a program for high school students to learn about trails, tools, and rare plants while meeting their volunteer requirements. We have worked with the Boys and Girls club in a weed pulling and tree planting project. We also conduct wildflower walks each summer, often with the USFS botanist. We attend HOA meetings to distribute information regarding noxious weeds and we sponsor community weed pulls. In addition, we attend local community events to talk about the rare plant project and noxious weeds and write noxious weed articles for newsletters. In 2014, MRHI held twelve Family Adventure Series programs. This summer environmental education series explored everything from bugs to backbones, birds to geology. These two-hour sessions featured fun, movement, crafts, and hands-on nature exploration for children from preschool to middle school. Another aspect of environmental education for children was the Story-Walk®. Story-Walk® is an innovative and delightful way for children to enjoy reading and the outdoors at the same time.
The last two summers, MRHI has been fortunate to have funding for four environmental stewards through the Southwest Conservation Corps, a division of AmeriCorps. Stewards receive a small living stipend during the 10-week program, in addition to an education award upon completion of the program. The stewards gain valuable work and field experience in finding and keying plants, learning to map locations using a Trimble GPS, how to use ESRI ArcMap, and trail and conservation work.
In the four years (2011 – 2014) that MRHI has been exploring the Mosquito Range we have scouted 169 locations, found 60 new instances of Eutrema penlandii (not necessarily new populations), mapped 563 instances of rare plants, hiked 727 GPS miles or 979 'adjusted' miles, and explored approximately 1,187 'adjusted' acres.
Volunteers play a large role in all MRHI projects. Through the years we have had 675 volunteer hours contributed scouting for plants, 363 hours pulling noxious weeds, and 1,548 hours on trail work.
Our partners through the four years have included the US Forest Service South Park Ranger District, the US Fish and Wildlife Service, South Park National Heritage Area, Bureau of Land Management, the Coalition for the Upper South Platte, Park County GIS/Mapping Department, Park County Land and Water Trust Fund, and the Colorado Natural Heritage Program.
According to Sheila Lamb, SPRD, the Forest Service and other partners have a need for information, especially related to rare, sensitive, threatened, and endangered species to assist with land management. But they don't have the funding to pay for research. "So, relationships with partners who are able to get this information are invaluable."
The cumulative value of the information that MRHI has been able to gather is incredibly important. One year's worth of work is important, but three and four years of work becomes significant. The cumulative value of what we've learned about rare plants in the Mosquito Range and Park County is pretty awesome." – Sheila Lamb, USFS
MRHI plans to continue the rare plant project in 2015. If you would like to join in the search for rare plants in the Mosquito Range sometime, please send an email to info@mrhi.org. We would love to have you!
To learn more about the Mosquito Range Heritage Initiative, go to our website, www.mrhi.org.
Ginni Greer, Secretary, Mosquito Range Heritage Initiative