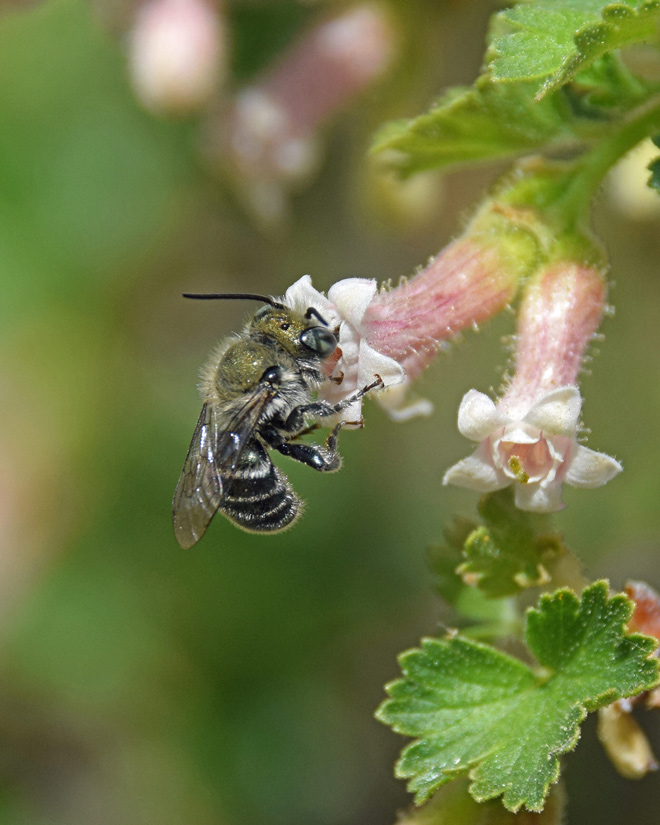 The "Currant" Situation
by Carol English
Humans would be in trouble without the pollinators! Some of the first early native bloomers attracting pollinators in the San Luis Valley include shrubs in the Currant family- Grossulariaceae, which are not related to the currants we buy at the grocery store. The genus Ribes, including currant, (unarmed or no thorns), and gooseberry, (armed or has thorns). Colorado is home to at least thirteen species of current and gooseberry shrubs, and there are approximately 8-10 Currant/Gooseberry shrubs in the San Luis Valley. Two common species include Trumpet gooseberry- Ribes leptanthum, and Wax Current- Ribes cereum.
Click here to learn more about Ribes species and their ecological and ethnobotanical importance.
July 8, 2022
Dear Members of the Colorado Native Plant Society,
Spring has turned to summer and CoNPS has been busy with many events and activities thanks to our many members and volunteers. It's hard to decide what to write in this space, impossible to choose just one glorious moment or event! Everyday is amazing when I am engaging with CoNPS members. How about something new? Here are some photos that speak a thousand words. Send me your photos! We will include them in the next e-news. Want to write a report of your CoNPS experience? Super! We need content for the website and we love to update the What's New page with member content.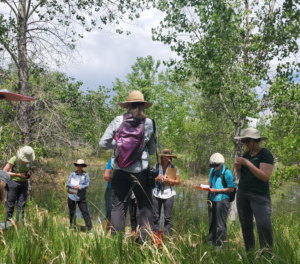 Thank you Beth Hanson for leading the June 12 2022 CoNPS Field Seminar: Plants of the Riparian Zone.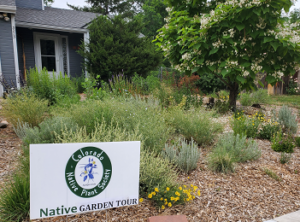 Thank you to all of the CoNPS Garden Tour hosts, volunteers and participants. Stay tuned for an upcoming webinar of species flowering during the 2022 CoNPS Garden Tours.  Photo: Maddie Maher's garden in Fort Collins.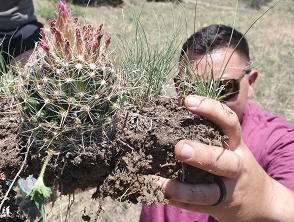 Mission Moment: Alex Crochet, Colorado Springs City Horticulturist holds up the biggest Escobaria vivipara, spinystar, that we had ever seen. This one was rescued from a development project during a pop-up plant rescue event. We worked to rescue plants with the fumes of the bulldozers in our nostrils. Just yesterday, Alex reported that all the rescued plants were thriving and that to date, his crew has planted 3,744 native seeds! Another several hundred plants have been propagated from woody stems, cacti cuttings, and rescue efforts. Thank you to Aiken Audubon and Donna Baker Breningstall for funding these efforts. Thank you to CoNPS volunteer members for making it happen with your participation, seed donations, and expertise.
I love your emails! Help me get to know your niche in Colorado.
Maggie Gaddis
Executive Director
ColoradoNativePlantSociety@gmail.com
Upcoming CoNPS Webinar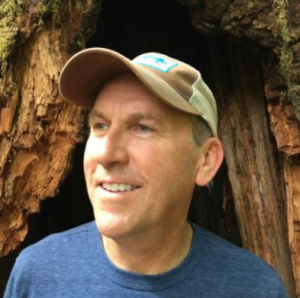 CoNPS Special Speaker Series Live Webinar:  An Evening with Scott Hoffman Black
A Win-Win for Insects: Nature-Based Climate Solutions Address both Climate Change and Biodiversity Concerns
Wednesday, July 27, 2022; 6:30-8:00 pm Mountain Time
Click here to register
To register and receive the member discount, please click on the link of the webinar(s) you are interested in and sign in as a member.  Thanks for your interest in attending these webinars! 
2022 CoNPS Annual Conference
Sept. 16-18, Longmont Museum: "From Peaks to Prairie:  Exploring Biodiversity and Disturbance in Front Range Ecosystems"
Contribute to the Silent Auction
A good silent auction item is one YOU would bid on. Be creative!
If you want advice regarding how you can help solicit silent auction items, please contact Sue Dingwell to let her know what you can donate: sageblue892@gmail.com.
Photo Contest
The photo contest is now accepting entries! Entries will be accepted until August 26th. Email Anna Theodorakos (annatheo712@gmail.com) with your photos. Voting will take place in-person at the Annual Conference on September 17th. For more information, visit https://conps.org/home-2/conps-photo-contests/.
CoNPS Chapter News & Events
All chapter events are free and open to members of all chapters.
Go to the CoNPS Events Calendar for details/links to virtual meetings and for other upcoming events.
Boulder Chapter:  Contact boulderconps@gmail.com for info.
The Boulder chapter is planning the 2022 Annual Conference. Stay tuned for more details. 
Mountain Research Station and Niwot Ridge, July 9, 7:00 am – 4:00 pm
Metro-Denver Chapter: Contact metrodenverconps@gmail.com for more info.
We are seeking additional Leadership Team members! If you are interested in joining the team, please email us at metrodenverconps@gmail.com! Everyone from all backgrounds are welcome, and no experience is necessary, just enthusiasm!
Seeking volunteers Field Trip leaders for the 2022 season > Click here to show your interest
Metro-Denver Field Trip: Loveland Pass Lakes, July 15, 8:00 am – 2:00 pm
Northern Chapter: Contact Ann Grant odygrant@gmail.com for more info.
Volunteer! Mrs. Walsh's Garden Day in Estes Park, July 28, 4:30 pm – 8:30 am
 
Plateau Chapter: Contact Jim Pisarowicz at pisarowicz@alumni.hamline.edu for more info.

Plateau Chapter: US Basin Wildflower Walk & Talk, July 14, 8:00 am – 12:00 pm 
San Luis Valley Chapter: Contact Carol English at slvchapterpresident@gmail.com for more info.
Dorsey Creek, July 9, 7:30 am – 5:00 pm
SE Chapter: Contact Curt Nimz, curtisnimz@gmail.com for more info.
Plant Inventory – Corral Bluffs View property, July 9, 2022, 8:30 am – 1:00 pm
Plant Inventory – Intemann Trail-Red Mountain, Manitou Springs, July 12, 8:00 am -1:00 pm 
North Cheyenne Canon- Buffalo Creek, July 13, 8:00 – 12:00 pm
SW Chapter: Contact Amanda Kuenzl at amandakuenzl@hotmail.com for more info
Pass Creek Trail, July 13, 8:00 – 2:00 pm
Pursue a leadership role within CoNPS. Become a committee leader today. This is an effective resume builder and a key way that CoNPS members interact between chapters to engage in horticulture, education, restoration, field studies, and conservation. 
Please contact Anne Beard, conpsoffice@gmail.com, CoNPS Membership and Communications Coordinator to explore a CoNPS Committee today.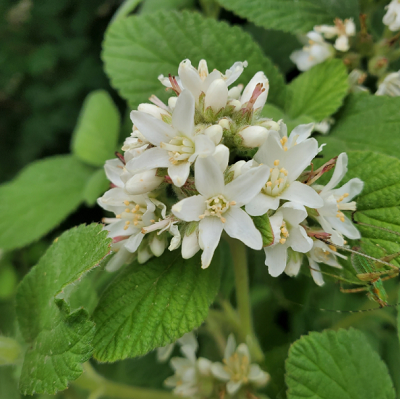 "A young man named Edwin James (1797-1861) signed on as surgeon-naturalist for Major Steven Long's expedition, which traveled up the South Platte in 1820 looking for its source, just as Zebulon Pike had. It appears Pike had no naturalist along, thus James was the first to report the area from that perspective… James found Jamesia americana, five petal cliffbush, while the expedition was camped along the South Platte in July 1820; Torrey and Gray named it after him in 1840." Excerpt from White, S.L. 1998. A Peak at Colorado Botany. Aquilegia 22(1-2). https://epublications.regis.edu/cgi/viewcontent.cgi?article=1084&context=aquilegia. Photo: MGaddis
On our website, native plant gardening resources > https://conps.org/home-2/resources/gardening-with-native-plants/
Find out here > https://conps.org/resources/certified-native-plant-garden/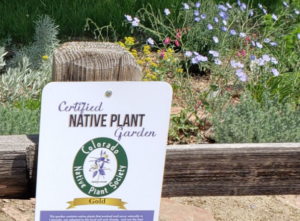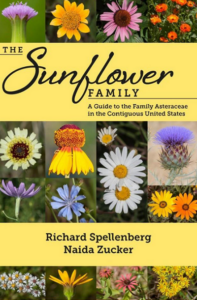 Book of the Month
This beautiful book deserves a spot on your coffee table. All you ever wanted to know about the biggest plant family on Earth, just in time for the warm season blooms.
Visit the CoNPS Bookstore to purchase this book and many more. 
Other Botanical News and Opportunities
2022 Global Steppe Symposium, July 27-28, 2022
Presented by Denver Botanic Gardens' Center for Global Initiatives
The semi-arid grasslands and shrublands that constitute the steppes contain some of the most vibrant and resilient life on earth. Studying the steppes through traditional cultures and modern sciences provides deep and complementary knowledge that can strengthen our understanding and appreciation of all life. The Global Steppe Symposium provides a forum for the international steppe community as we explore how to live and thrive in the high plains of the world.
This symposium will bring together scientists, plant lovers, land stewards, agriculturists and artists who live and work in steppes, investigating the complicated and essential relationship between humans, gardens and the steppes.
For more information,  visit 2022 Global Steppe Symposium – Research and Conservation | Denver Botanic Gardens for a list of speakers and to register.
CoNPS members can use this discount code: 2022Steppe
—
El Paso County Fair Horticulture Open Class includes Native Plants 
Did you know that the Horticulture open class at the El Paso County Fair has a category for native plants in addition to the more traditional flowers and vegetables?
We'd love to see native plants get their due at the fair this year, so please enter some native plants you've grown yourself. The Fair show is July 22 at 3 pm at the Fairgrounds in Calhan. Click here to enter. If you have some awesome veggies or beautiful non-native flower, feel free to enter those in as well – and this year we have an amazing biggest tomato contest with a new grill as the prize (tomatoes don't have to be ripe. Any questions, please contact Irene Shonle -Irene.shonle@colostate.edu.
—
—
COVID-19 UPDATE
Chapter Field Trips and Workshops are dependent upon local conditions, at the discretion of the Leader and should be considered tentative, allowing for Federal, State, County, and local COVID-19 restrictions. Trip Leaders, please keep your Attendee Sheet, should future contact tracing be necessary. Everyone, please read the revised Waiver and Release of Liability before agreeing to it, including travel to/from events with your familial group or by yourself.