CoNPS has some incredible artists! This image represents a handmade, quilted wall hanging crafted by
Ann Grant that will be on offer at the Silent Auction.
August 10, 2022
Dear Members of the Colorado Native Plant Society,
I hope the monsoons are giving you a new burst of flora diversity in the late summer. If you are planning to seed grasses, get to it! In my experience, a monsoon season planting works better than a spring planting because there is less competitve pressure from cool season weeds.
I hope you will join me on August 11th at 6pm for a virtual presentation of  some of the natives that were flowering during the CoNPS 2022 Garden Tour – gorgeous!
If you are in northern Colorado, please join us in tabling during the Poudre River Fest in Fort Collins August 20th. In southern Colorado, I hope you will join us for the Native Plant Summit August 20th, an event co-sponsored by CoNPS and the City of Colorado Springs Horticulture program. Maybe you are in the Southwest. If so, come collect seed with us on Ute Mountain Ute lands August 25th. It's not too late to enjoy the company of your CoNPS colleagues in the month of August. Check the calendar for details. These and other events are always listed in our calendar. The Enews is just a reminder!
Then in September, we can't wait to see you at the 2022 CoNPS Annual Conference. Please visit https://conps.org/2022-conps-annual-conference/ today to learn about our speakers and field trips. We'd also like to encourage  you to be  a sponsor of our conference with your financial contributions and silent auction donations. 
Warm regards,
Maggie Gaddis
Executive Director
ColoradoNativePlantSociety@gmail.com
2022 CoNPS Annual Conference
Sept. 16-18, Longmont Museum
"From Peaks to Prairie:  Exploring Biodiversity and Disturbance in Front Range Ecosystems"
In this conference, hosted by the Boulder Chapter, we will hear from speakers with a wide breadth of experience in studying the complexities of biological diversity and the influence of disturbance in our wildlands. A variety of ecosystems along the Colorado Front Range and beyond will be showcased by experts who have been working in these landscapes for decades. Boulder County, the conference setting, is an ecologically diverse place with every life zone found in Colorado from 5,000ft to 14,000ft. 
We need a few more volunteers for the conference! Please email BoulderCoNPS@gmail.com to sign up to volunteer. 
Photo Contest
The photo contest is now accepting entries! We need entries in categories:
3- native plant gardens,
4- CO native plants and wildlife, and
5- artististic interpretations of CO native plants.
Entries will be accepted until September 2nd. Email Anna Theodorakos (annatheo712@gmail.com) with your photos. Voting will take place in-person at the Annual Conference on September 17th.

2021 PHOTO CONTEST, 3RD PLACE (2X TIE), NATIVE PLANT CATEGORY
2021 Photo Contest, 3rd Place (2x tie), Native Plant Category, "Anthers of Andropogon geradii illuminated by the morning sun". Photo by Rick Brune.
2022 CoNPS Annual Conference Sponsors 
We hope you will join us in thanking our 2022 Conference Sponsors to date.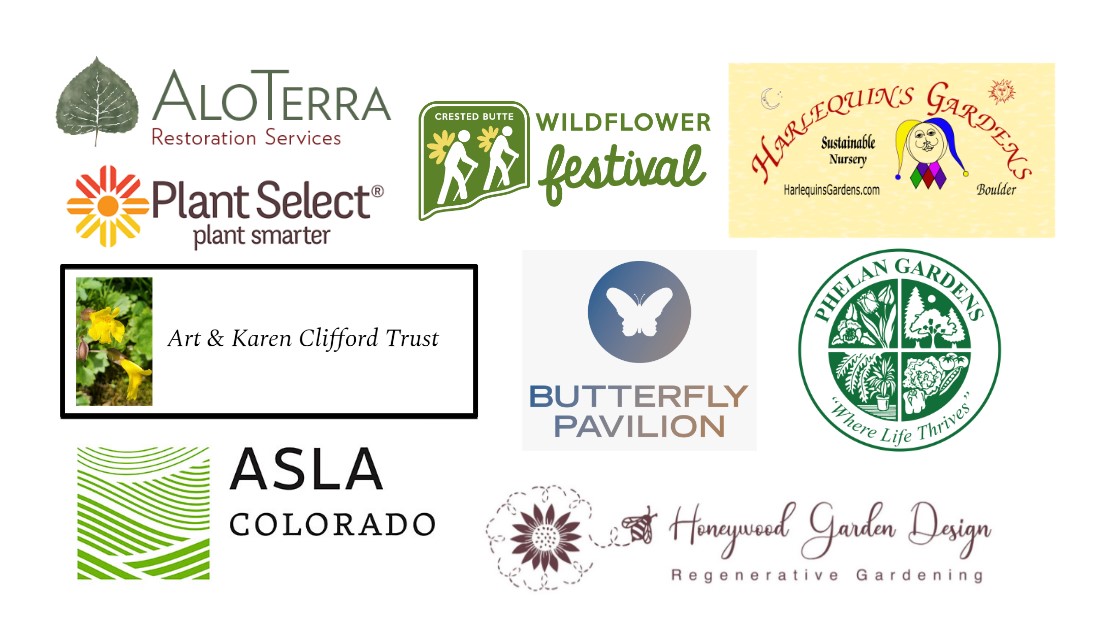 Upcoming CoNPS Webinar
Webinar – Gardening with Native Plants Series:
Wildscaping 101 – Native Plants for Birds
Sunday, September 25, 2022; 9:30 am – 11:00 am
Presenter:  Kate Hogan, M.S.
To register and receive the member discount, please click on the link of the webinar(s) you are interested in and sign in as a member.  Thanks for your interest in attending these webinars! 
CoNPS Chapter News & Events
All chapter events are free and open to members of all chapters.
Go to the CoNPS Events Calendar for details/links to virtual meetings and for other upcoming events.
Boulder Chapter:  Contact boulderconps@gmail.com for info.
The Boulder chapter is planning the 2022 Annual Conference. Register for the conference today!
Metro-Denver Chapter: Contact metrodenverconps@gmail.com for more info.
We are seeking additional Leadership Team members! If you are interested in joining the team, please email us at metrodenverconps@gmail.com! Everyone from all backgrounds are welcome, and no experience is necessary, just enthusiasm!
Seeking volunteers Field Trip leaders for the 2022 season > Click here to show your interest
Metro-Denver Social, August 19, 5:30 PM
Northern Chapter: Contact Ann Grant odygrant@gmail.com for more info.
Volunteer at the Poudre River Fest, Saturday, Aug 29, noon to 6pm, New Belgium Brewing Company, Fort Collins, CO
Volunteers needed 12pm to 2pm, 2pm to 4pm, and 4pm to close
Plateau Chapter: Contact Jim Pisarowicz at pisarowicz@alumni.hamline.edu for more info.
San Luis Valley Chapter: Contact Carol English at slvchapterpresident@gmail.com for more info.
San Luis Valley Chapter Meeting, August 24, 6:00 – 7:30 PM
SE Chapter: Contact Curt Nimz, curtisnimz@gmail.com for more info.
SE Chapter Plant Inventory – Black Canyon Open Space, Manitou Springs, August 11, 9 am – 12 pm
SE Chapter Plant Inventory – Corral Bluffs View property, Saturday August 13, 8:30 am – 1pm
SE Chapter Volunteer Event: TGIF! Thank Goodness It's Flowering at Phelan Gardens Greenhouse volunteering event, Aug 19, 2:00 pm – 4:00 pm
SW Chapter: Contact Amanda Kuenzl at amandakuenzl@hotmail.com for more info
Mountain Studies Institute/SW Chapter – Ute Mountain Ute lands Seed Collection, August 25, 7:00 am – 2:30 pm
In an effort to recruit participation and work to align our chapter activities with our committee work, we are having monthly committee meetings. Every committee has at least dozens of CoNPS members affiliated with it, but since COVID, some committees have been very quiet. Please attend these meetings to express your continued interest in committee work. We will plan our projects for 2023 and facilitate the cooperation of chapters and committees in meeting the mission of CoNPS.
Horticulture / Education Committee Meetings
Third Mondays of each month: August 15, October 17, November 21, December 19,
8:00 – 9:00 AM on Zoom
Media Committee Meetings
Third Tuesdays of each month: August 16, October 18, November 15, December 20
8:00 – 9:00 AM on Zoom
Field Studies / Restoration / Conservation Committee Meetings
Third Wednesdays of each month: August 17, October 19, November 16, December 21
8:00 – 9:00 AM on Zoom
Membership / Scholarships / Grants Committee Meetings
Third Thursdays of each month: August 18, October 20, November 17, December 15
8:00 – 9:00 AM on Zoom
Annual Conference Committee Meetings
Third Fridays of each month: October 21, November 18, December 16
8:00 – 9:00 AM on Zoom
All committees will meet socially during meal times during the Annual Conference, September 16-18.
Please contact Anne Beard, conpsoffice@gmail.com, CoNPS Membership and Communications Coordinator to explore a CoNPS Committee today.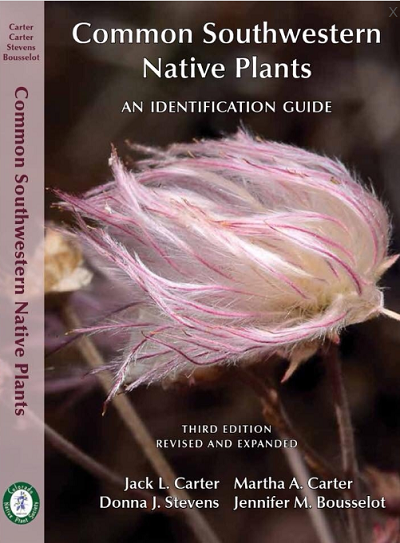 Hot of the Press!

Common Southwestern Native Plants 
Our new shipment of Common Southwestern Native Plants is in! This book is a precious legacy gifted to CoNPS by the Carter family. All proceeds of the sale of this book support the Colorado Native Plant Society. Purchase your copy today in the CoNPS Store.
Can you help us? We are establishing a bookstore volunteer crew. One task is getting the word out about this book. If you are traveling around the southwest and would be willing to connect with book outlets in your travels, please let us know! We would love to see this book in every National Park, State Park, and recreation retail outlet in the southwest. Contact ColoradoNativePlantSociety@gmail.com to volunteer.
Find out here:  Certify Your Native Garden
If you recently certified your garden, your sign is in the mail!
Thank you for participating in this CoNPS program.
Your garden is an expression of our mission, for all to see. The sign helps people know that your beautiful garden is native!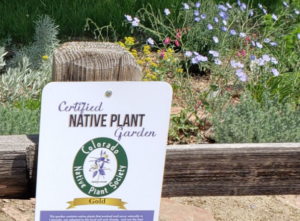 Other Botanical News and Opportunities
19th Annual Colorado Rare Plant Symposium 
Friday September 16th, 8:00 – 4:00 
Longmont Museum, Longmont, CO
Registration opens July 25th
All are welcome to join us for the Rare Plant Symposium, held in conjunction with the Colorado Native Plant Society's Annual Conference. Hosted by the Colorado Natural Heritage Program, the symposium is an annual  meeting to address status and conservation needs of rare plants in Colorado. There is a separate registration for the symposium, find it in the Calendar for 9/16.
—
Volunteer! Grand Valley Audubon Society Bioblitz on September 17th
Full details can be found here: https://www.eventbrite.com/e/grand-valley-audubon-bioblitz-tickets-388842086147 
Inaturalist Project: https://www.inaturalist.org/projects/grand-valley-audubon-society-bioblitz-2022