What a year! The pandemic was over! Or was it? We didn't have to wear masks anymore! Or did we? Inflation was going to be transitory – until it wasn't. But one thing remained constant in the midst of all that turmoil, members of the Colorado Native Plant Society never wavered from their focus. Through the efforts of our chapters and Board-directed activities, we were busy appreciating, learning more about, and conserving the native plants of the Centennial State. With gratifying results.
The work of our Society has become increasingly important as the effects of shrinking habitat and climate changes are being made manifest. This year brought about both an increase in the number of our members, and even more significantly, a new public recognition of the value of our collective knowledge of the plants and habitats of Colorado.
We held the first ever Colorado Native Plant Summit in partnership with the Colorado Springs Horticulture Department, and drew participants from eight counties. Our Executive Director testified in favor of House Bill SB22-199 Native Pollinating Insects Protection Study. This bill was passed and funds have been allocated for the study. At our most recent webinar, a speaker from the Rocky Mountain Biological Laboratory emphasized the desperate need of more data to inform our protective measures for individual pollinator species. This bill will fund a study that does exactly that.

We acquired not one, but two office spaces, one of which also houses our bookstore. No more books in someone's closet! These office spaces give us a place to interact with the public as well accomplish Society work. The space in Denver also fulfills a requirement for our non-profit Society to have an address in Denver which is needed for our ability to apply for grants from the Scientific and Cultural Facilities District. Check the calendar for office hours and come visit!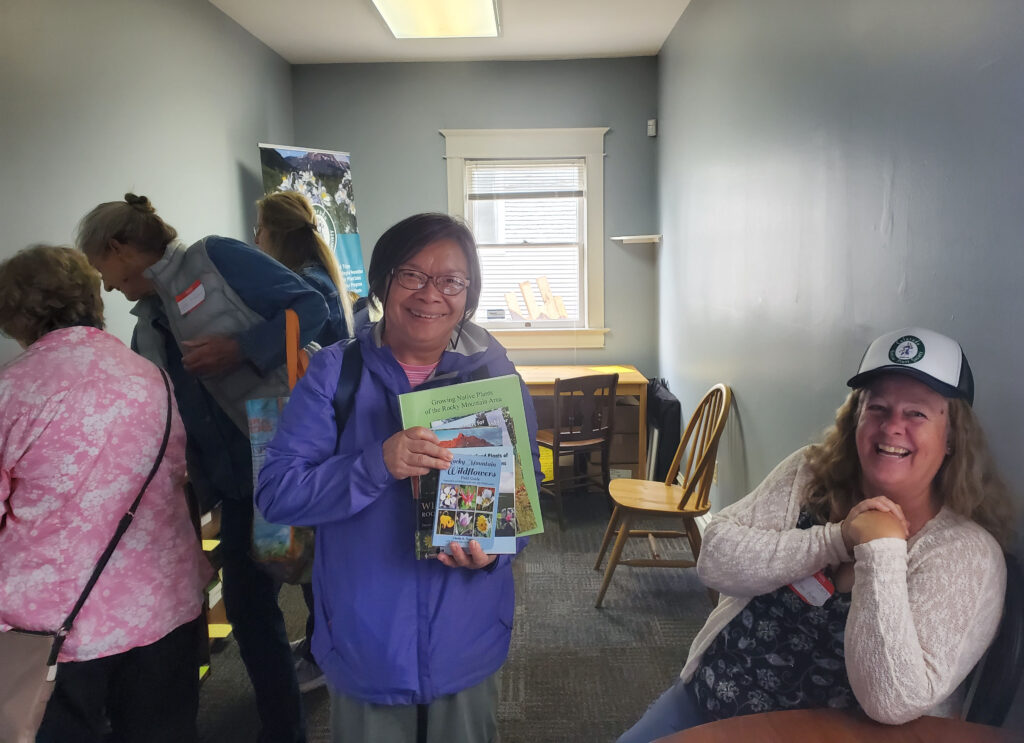 Our committees wrote letters of public comment, produced four issues of the beautiful and informative Aquilegia magazine,  awarded grants, and did field research including
three plant inventories. One of our student members  received an Aiken Audubon grant and completed research on native plant germination in native soils and two horticultural soils used by our partners. Our chapters organized excellent programs, field trips, and volunteer efforts in support of conservation. We collectively held plants sales, seed swaps, and garden tours. 
Boulder hosted the Annual Conference, held at the Longmont Museum in September. Next year, the Annual Conference will be in the San Luis Valley, hosted by San Luis Valley Chapter. We hope to help guide planning of the new 154 mile Heart of the Valley Trail there.  
We all benefitted from the incredible Webinar series. This year we attracted participants not only from all over Colorado, but also from twenty other states and Canada. Go CoNPS!
This year we have forged valuable partnerships with a host of like-minded organizations. See below! These relationships will give us the opportunity to expand our outreach, and to benefit the world we live in and hope to preserve. Thanks to the efforts of each and everyone of you, members of the Colorado Native Plant Society.
As we move into our new year, 2023, (how did that happen?) we want to continue our journey toward being the thought leaders in areas where we have such deep reservoirs of talent: the role of native plants, habitat conservation, horticulture, climate change and carbon sequestration, ecosystem services, and pollinator relationships.
Coming soon in  2023, our own CoNPS YouTube channel! Stay tuned and stay native!
Sue Dingwell
Media Committee
Colorado Native Plant Society