2022 CoNPS Conference Speaker Bios and Abstracts
From Peaks to Prairie:
Exploring Diversity & Disturbance in Front Range Ecosystems
Saturday September 17, 9:00 AM – 5:00 PM, Conference

CLICK HERE TO REGISTER FOR THE CONFERENCE
Christian Nunes (City of Boulder Open Space and Mountain Parks, with Prebles Meadow Jumping Mouse)
Title:  Disturbance, plants, and the butterflies that love them
Abstract: Aristotle famously observed how nature abhors a vacuum. In nature's race to fill unused space, we find mechanisms for adaptation, niche partitioning, and ultimately an increase in biodiversity. From this perspective, nature relishes the vacuum created by disturbances. Avalanches, wind, fire, grazing, and all manner of biotic or abiotic processes that alter the energy flow in an ecosystem provide opportunity for uniquely adapted plants. Butterflies in turn capitalize on these early successional plant species and environments. Many of Colorado's rarest butterflies, such as the hops azure, mottled duskywing, and Pawnee montane skipper, are in some way adapted to disturbance regimes. Land managers and conservationists need to consider these relationships when planning management actions. As the intermediate disturbance hypothesis demonstrates, having too little or too much disturbance can have negative effects on target populations. In this presentation, I will introduce some butterfly/plant/disturbance relationships and discuss examples of Colorado's butterfly species that are struggling in the absence of ideal disturbance regimes, or which are being harmed by excessive disturbance.
Bio: Christian is a wildlife ecologist for the City of Boulder Open Space and Mountain Parks Department. His professional work focuses on monitoring a variety of wildlife species across the city's 50,000 acre open space system. Christian works to maintain and improve functioning ecosystems for a variety of conservation targets such as CNHP-tracked butterfly species, black-tailed prairie dogs, bobolinks, and northern leopard frogs.
Nancy Emery (University of Colorado Boulder, Associate Professor) and Meagan Oldfather (University of Colorado Boulder, Post-doctoral Researcher)
Title: Alpine plant responses to changing climate: Long-term trends and experimental insights from the Niwot Ridge LTER
Abstract: Perched above treeline along the most extensive mountain range in North America, the Rocky Mountain tundra is one the most climatically extreme ecosystems occupied by plants on the planet. Adapted to long, cold winters, shallow soils, and short growing seasons, alpine plants are expected to be particularly vulnerable to climate change. The Niwot Ridge Long-Term Ecological Research (LTER) project in the Colorado Front Range of the Southern Rockies has been monitoring alpine plant community dynamics for over 40 years with the goal of understanding when, where, and how fast alpine vegetation is responding to changing environmental conditions. Our long-term data indicate that the responses of tundra plant communities to rising temperatures vary across the landscape, with the most turnover occurring in locations that experience the least amount of snow accumulation. Furthermore, the communities in these particularly dry, windswept locations have shown a trend of "reverse thermophilization," with an increase in the abundance of cold-tolerant species. This trend may reflect an increasing role of drought tolerance in shaping plant community composition in these locations, which favors traits that often also promote cold tolerance. We have also documented high rates of shrub expansion at Niwot Ridge, consistent with global patterns of the "shrubification" of tundra systems. Shrubs change fine-scale patterns of snow accumulation and microclimate, plant community composition, and the nature of species interactions under their canopy. Collectively, these and other results from the Niwot Ridge LTER highlight the role of fine-scale heterogeneity, due to both abiotic (topography) and biotic (shrub) factors, in driving microclimate variation that drives alpine plant responses to rising temperatures.
Bio: Nancy Emery is an Associate Professor in the Department of Ecology and Evolutionary Biology at the University of Colorado Boulder and a co-investigator of the Niwot Ridge Long-Term Ecological Research project. Her research program focuses on understanding plant adaptation in spatially and temporally variable environments and the role of evolutionary processes in shaping plant responses to global change. 
Tom Veblen (University of Colorado Boulder, Distinguished Professor emeritus)
Title: The Challenge of Shifting from the Forest Restoration Narrative to an Evidence-Based Climate Adaptation Paradigm in Colorado
Abstract: Landscape-scale forest restoration in Colorado has been driven largely by the belief that a return to forest structures that existed prior to 20 th -century fire exclusion will simultaneously achieve goals of improved forest health, reduced societal exposure to extreme wildfires, and enhanced forest resilience to climate change. Increasingly, the efficacy of forest restoration practices is being questioned in the context of recent and continuing climate change. Competing frameworks focusing more explicitly on climate change adaptation are developing within land management institutions as well as more broadly in conservation science, including the resist-accept-direct (RAD) framework. As new climate adaptation frameworks evolve, it is critical that they be based on a sound understanding of how climate variability affects the key broad-scale disturbances of wildfire and tree-killing insect outbreaks. For the forests of the Colorado Front Range, I will synthesize multi-century tree-ring records of fire and insect outbreaks and their relationships to climate variability. In addition, I will summarize recent research from long-term forest monitoring plots, experimental and observational studies of tree establishment following recent wildfires and insect outbreaks, and the implications of these studies for adapting to projected future climate.
Bio: Tom Veblen is a CU Distinguished Professor Emeritus. He completed his PhD at UC Berkeley in 1975, was a faculty member at the University of Southern Chile from 1975 to 1979, then a Research Scientist with the New Zealand Forest Service from 1979 to 1981 and joined the Geography Department at CU Boulder in 1981.  His research centers on how natural and anthropogenic disturbances and climatic variability have shaped the forested landscapes of the Southern Rocky Mountains and the Southern Andean region of Nothofagus forests. In Colorado he has used tree-ring methods to date past fires and insect outbreaks to reveal the historical range of variability of these disturbances. His current focus is on how to address the effects of climate change on the future of Colorado's forests.
Julie Larson (USDA Agricultural Research Service, Postdoctoral Researcher)
Title: Mechanisms of change: How disturbance and drought shape current (and future) plant communities in diverse Front Range grasslands
Abstract: More frequent or extreme droughts are a major concern in much of the West, but the potential impacts are complex when we consider how disturbance contexts (e.g., grazing or fire management) and the biodiversity of a site may shape outcomes.  Colorado's grassland plant communities can include a diverse range of ecological strategies — both in the vegetation and stored in soil seed banks — that may respond differently to drought and disturbance. In this talk, I'll discuss a multi-year experiment in Boulder, CO where we're continuing to track how plant communities respond to interacting rainfall and grazing conditions; this means not only looking at how plants grow and survive, but how the seed bank (and recruitment from it) may shape vegetative turnover and recovery.  I'll share what we've learned so far and discuss the types of questions we're looking forward to as we aim to manage and restore biodiversity in an uncertain future.
Bio: Julie is a postdoctoral research ecologist with USDA-ARS working to improve native seed-based restoration in rangelands of the Intermountain West.  She recently finished her doctoral degree at the University of Colorado, where she continues to explore mechanisms of plant community response to drought in grazed lands, in partnership with Dr. Katharine Suding and City of Boulder Open Space and Mountain Parks. She loves to discuss seed banks, plant recruitment strategies, and how to make rangeland science more inclusive.
Isabel de Silva (University of Colorado Boulder, Graduate Student)
Title: Willow (Salix spp.) water use in highly browsed, nearly beaver-less riparian systems in Rocky Mountain National Park
Abstract: Willows (Salix spp.) are keystone riparian species facing decline under altered hydrologic regimes (i.e. loss of beaver dams) and increased herbivore pressure (i.e. ungulate browsing). Consequently, the National Park Service is piloting ways to speed up recovery of tall, willow-dominated montane riparian systems – for example, by equipping streams with simulated beaver structures to raise water tables and fencing ungulates out of 160 acres of Rocky Mountain National Park (RMNP). However, willow recovery has been slow, and extant monitoring of cover and height has not identified mechanisms. I took a novel approach, using ecophysiology to quantify transpiration, photosynthetic rates, and water potential to understand mechanisms of plant response across sites spanning a gradient in hydrological condition (wet, reference to dry, degraded sites) in RMNP. I show how in situ ecophysiological assessments can answer a key management question – Are willows water limited in RMNP?
Bio: Isabel de Silva is a PhD Candidate in the Ecology & Evolutionary Biology Department at the University of Colorado Boulder. She studies riparian ecology and restoration from a plant community and ecophysiological perspective. For her dissertation, Isabel has researched willow water use and long-term plant community trends in Rocky Mountain National Park, in addition to testing novel native planting assemblages and methods to improve resiliency in a stage 0 adaptive riparian restoration setting in the Front Range.
Sarah Marshall and Laurie Gilligan (Colorado Natural Heritage Program)
Title: Wetland Biodiversity from the Peaks to the Plains
Abstract: The speakers will take participants on a virtual tour of northern Front Range wetland types across the 10,000 foot elevation gradient from the Continental Divide to the plains, with discussion of both common and rare plant communities and conservation needs along the way. Each speaker will share insights from their primary geographic focus, and current efforts to better understand and protect Colorado's valuable wetlands.
Bios: Laurie Gilligan has been a wetland ecologist at the Colorado Natural Heritage Program for 10 years and conducting ecology research for nearly 20. Her work at CNHP has focused on wetland inventory and assessment across the state of Colorado, with a recent focus on wetlands of the Colorado Front Range urban areas and eastern plains. She also worked in urban wetland mapping and assessment for the city of Portland, OR. Prior to the Colorado Natural Heritage Program, she worked a broad variety of ecology field jobs throughout the west with an applied management focus. She has her M.S. in Botany and Plant Pathology from Oregon State University with an Ecology focus.
Sarah Marshall is an ecohydrologist with CNHP who has worked with wetland and riparian ecosystems in the western U.S. for nearly two decades. She has a Ph.D. in Water Resources Engineering, with expertise in ecological restoration and the effects of land use and management on wetland hydrology, soils, and ecology. Her work focuses on helping partners better understand, manage, and assess the extent and ecological condition of wetlands across Colorado and the West – from watershed planning to prioritizing headwater wetland conservation and restoration efforts to meet habitat, water quality, and water supply needs in a changing climate.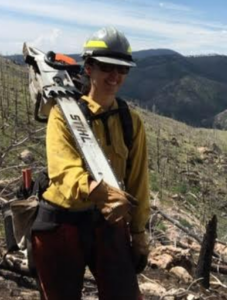 Megan Matonis (Ember Alliance)
Title: Shifting composition: Short-term impacts of the Calwood Fire on native and non-native plant species  
 Abstract: A combination of extreme fire weather conditions, unplanned ignitions, and dense forest conditions have resulted in unprecedented wildfire behavior in northern Colorado. I sampled understory vegetation in 12 mosaic-meadows created or expanded by forest thinning on Heil Valley Ranch to assess the response of understory vegetation to the 2020 Calwood Fire. I measured stand density, scorch height, crown scorch/consumption, and fuel loads at 44 plots distributed across the central and eastern portion of Heil Valley Ranch to explore impacts of pre-fire forest structure on burn severity. Understory plant cover and richness increased after the Calwood Fire, with non-native species showing a strong, positive response to post-fire conditions. Forest structure had a marginal impact on vegetation and soil burn severity due to exceptionally dry and windy conditions during the first day of the Calwood Fire. However, there was evidence that several linked prescribed burns from 2014-2016 reduced soil and vegetation burn severity and are an important management strategy for restoring ponderosa pine ecosystems and enhancing their resilience to wildfire.
 Bio: Dr. Megan Matonis is a wildfire behavior analyst with The Ember Alliance, a non-profit dedicated to increasing the pace and scale of prescribed burning, empowering fire adapted communities, and promoting diversity and inclusion on the fireline. She has a PhD in forest ecology from Colorado State University, and she previously worked for the Colorado State Forest Service and the Rocky Mountain Research Station of the U.S. Forest Service. Megan conducts wildfire behavior modeling for community planning efforts and conducts applied research projects on fuel management and wildfire effects. She has been an on-call wildland firefighter with the Larimer County Sheriff's Office for 8 years.
Ava Hamilton (Rising Voices Center)
Title: The Cycles of Life – Everything is Related
Abstract:  Indigenous knowledge teaches how to understand life through appreciation of natural systems and their interconnections with the earth. My talk will center on the sharing of all knowledge, and how incorporating Indigenous Knowledge Holders and Western sciences are advancing our understanding and approach to climate change as a world community.
Bio: Ava is a documentary video producer whose primary research is on Indigenous histories. She is on the advisory board of Rising Voices Center for Indigenous and Earth Science, which recognizes the "many ways of knowing" through Indigenous Knowledges and Western Earth Sciences. She works across different communities in Boulder County, Colorado, the US and her vast network of connections in the Native American community to convey the importance of indigenous knowledge. Ava is Arapaho and has lived in Boulder since 1970.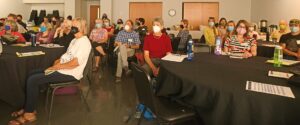 photo: J. Pisawaricz